Daniel Cuevas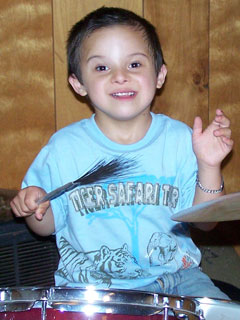 My son Daniel is a wonderful loving 7 year old boy. He is the light of my life. His hugs and smiles mean the world to me. Daniel has been dually diagnosed with Down syndrome AND Autism. He was developing as a "typical" child with Down syndrome would in his early years. He began to say a few words, use sign language, play games and interact with others. However, that all changed when he turned 2 1/2 yrs old - it was like my son was taken away from me. He stopped signing, making any eye contact and lost the few words he had. He became very distant and would just sit by himself and rock or flap his arms as if in a trance. Daniel shut everything and everyone out of his little world. The professionals at his pre-school were not much help at all and wrote it off as part of his Down syndrome diagnosis.
It was not until I took him to The Cody Center that he was formally diagnosed with Autism when he was 6. Professionals had told me and my family to accept Daniel how he was; they did not share any hope for him to progress much. I will never forget the doctor telling me and my mother that Daniel speaking and being potty trained were not realistic goals for my son. I was crushed; my mom and I sat there and cried. I felt that there was no one that could help us. This was devastating to say the least.
Shortly after Daniel's dual diagnosis of Autism, my mother came across the Long Island Spectrum website, and soon enough we were sitting down with Dr. Mike and he gave us hope for Daniel's future! After extensive blood tests Dr. Mike discovered that Daniel was allergic to milk (casein), soy and gluten. These were all of the things that Daniel had been eating on a regular basis for years. Now Daniel has been on his new Casein-free, Soy-free and gluten-free diet for a short time and already is showing improvement. He is progressing in school, his tantrums have stopped and his self-stimulating and self-injurious behavior has decreased. Although he is showing improvement, Daniel has a very long road ahead of him. We are trusting in God that He will bring us through.
I am a single mother going to school full time, working and taking care of Daniel on my own; Daniel's new diet has now put a huge strain on my finances. I am sure that Daniel will only progress much more from participating in Dr. Mike's multi sensory training program, and this too seems like an impossible financial burden, but I am taking it one day at a time; Trusting that God will make a way for me to afford these therapies to help Daniel progress and be the best that he can be. With your help, Daniel's therapies can be a reality and he can continue to grow and reach his full potential. Thank you so much for helping out - May God bless you richly!
Back To Sponsor A Child Page